FARO ScanArm
The FARO® ScanArm is a portable 3D articulated measuring device that resembles the human arm in appearance. The device moves freely with its arm-like joints and is capable of performing measurements either through probing or 3D laser scanning of the target objects. Within seconds, the ScanArm acquires point cloud data consisting of millions of points. Now, scanning with the ScanArm is all it takes to complete your entire inspection process, because the 3D modelling data generated within a few minutes allows technicians to directly arrive at a conclusion. The inspection process, which was previously spread across four or five stages, has now been reduced to a single-stage operation. As a result, the amount of time and labor associated with the inspection is considerably reduced.
Overview
Most Common Applications
Aerospace: Reverse Engineering, Certification, Part Inspection
Automotive: Tool Building & Certification, Alignment, Part Inspection
Metal Fabrication: OMI, First article inspection, Periodic Part Inspection
Molding/Tool & Die: Mold and Die Inspection, Prototype Part Scanning
Features
Improved Job Efficiency
Significant Improvements to Work Processes and Measurements
No More Complex Inspections
No Conflict in Measurements
Scan head positioned for better ergonomics and unobstructed hard probing
Use Laser and Hard Probes seamlessly
Laser scan up to 19,200 points/second
No intermediary software running in the background
---
Featured Video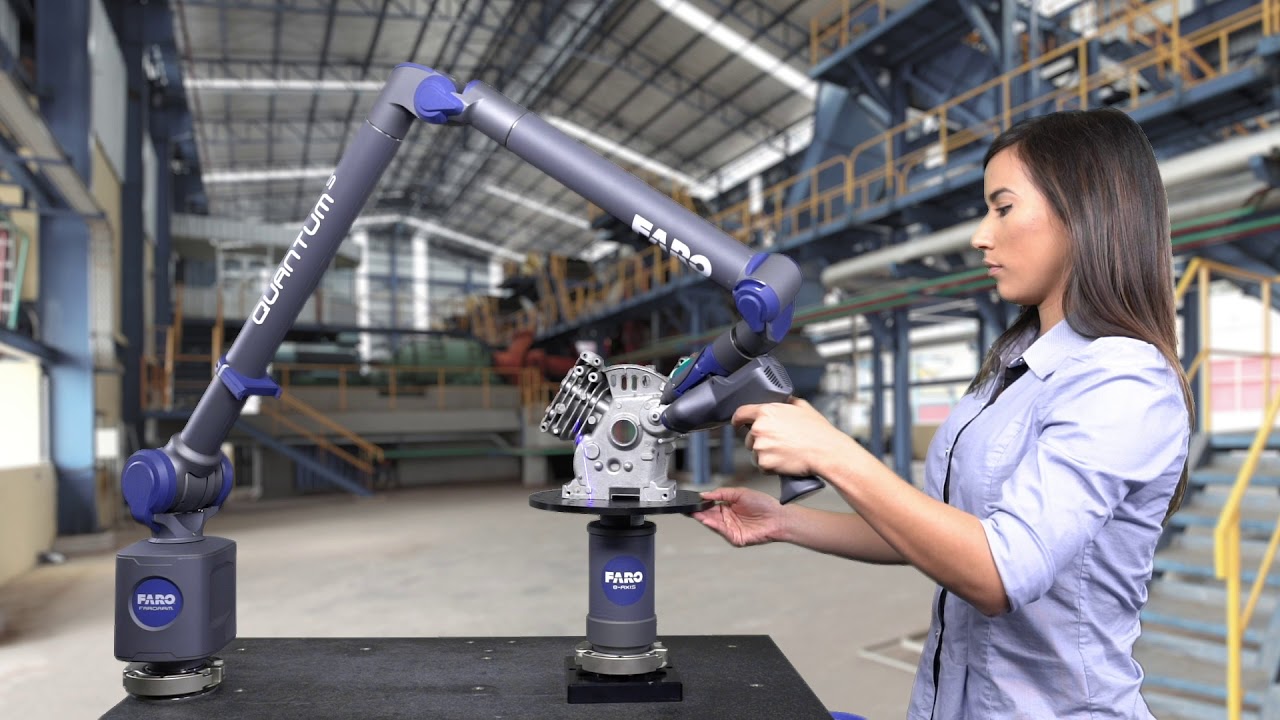 Laser Line Probe V3 Specifications
Accuracy: ±.0014" (±35µm)
Repeatability: .0014" (35µm, 2σ) Stand-off: 3.75" (95mm)
Depth of Field: 3.35" (85mm)
Far Field 2.36" (60mm)
Scan Rate: 30 frames/second, 30fps x 640points/line = 19,200 points/sec.
LASER: 660nm, CDRH Class II/IEC Class 2M
Weight: 370g
---
Performance Specifications (Non-Contact)
Model 6 ft. (1.8 m) 8 ft. (2.4 m) 10 ft. (3.0 m) 12 ft. (3.7 m)
Fusion .0032 in. (.081 mm) .0034 in. (.086 mm) .0049 in. (.124 mm) .0063 in. (.159 mm)
Platinum .0024 in. (.061 mm) .0026 in. (.065 mm) .0034 in. (.087 mm) .0043 in. (.108 mm)
Quantum .0021 in. (.054 mm) .0022 in. (.055 mm) .0029 in. (.074 mm) .0034 in. (.086 mm)
Performance Specifications (Contact)
FaroArm Test Methods - (Test methods are a subset of those given in the B89.4.22 standard.)
Single Point Articulation Performance Test (Max-Min)/2: The probe of the FaroArm is placed within a conical socket, and individual points are measured from multiple approach directions. Each individual point measurement is analyzed as a range of deviations in X, Y, Z. This test is a method for determining articulating measurement machine repeatability.
Volumetric Maximum Deviation: Determined by using traceable length artifacts, which are measured at various locations and orientations throughout the working volume of the FaroArm. This test is a method for determining articulating measurement machine accuracy.
Hardware Specifications
Operating Temp range: 10°C to 40°C (50°F to 104°F)
Temperature Rate: 3°C/5min. (5.4°F/5min.) Max
Operating Humidity range: 0 - 95%, noncondensing
Power Supply: Universal worldwide voltage
85-245VAC, 50/60 Hz
Register to Rent / Purchase
Fill out the form below and an ECM representative will contact you shortly to discuss your next steps.